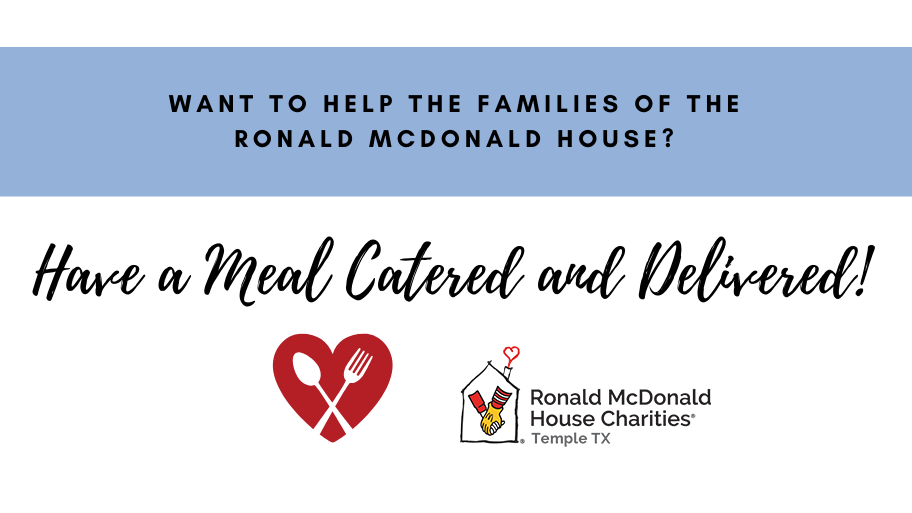 Ronald McDonald House Charities of Temple is committed to providing clean and healthy family-centered spaces for families to rest, recharge and connect while their child receives medical care. The health and wellbeing of our guest families, staff, and the communities in which we serve are, and always will be, our priority.
Cater-A-Meal
Order a meal and have it delivered directly to the Ronald McDonald House on your scheduled date. Contact our Director of House Operations, Leilani Kitchings, at 254-770-0910 to reserve your date.
Food must be prepared in a licensed kitchen.
Click here to donate on our website.
Food can be delivered hot or cold as long as it is fully cooked and can be reheated in our kitchen.
Plan to feed approximately 20 people.
Dinner meals should be delivered by 5:30 p.m.
No serving supplies or beverages are needed.
Delivery to the House is easy. Just pull up to the front door at 2415 South 47th Street, Temple, TX 76504 and call 254-770-0910 and we will come out. You can also have the restaurant of your choosing deliver to us, if available.
Sponsor-A-Meal
You can Sponsor-A-Meal with a $200 donation to Ronald McDonald House Charities of Temple and we will order food for a night in your name. Sponsors will be acknowledged on signage the night your meal is served.
Donate on our website
Mail check to: RMHC-Temple, 2415 South 47th Street, Temple, TX 76504 Memo: Sponsor-A-Meal
A donation of $200 can provide our families with a meal for one night.
Donate Gift Cards
Door Dash Gift Cards ($50, $100)
Grocery Store (HEB, Wal-Mart, Sams)
Email gift cards to house@rmhc-temple.org or mail to: 2415 South 47th Street, Temple, TX 76504
Guest Chef Volunteering Updates:
During the COVID-19 pandemic, RMHC has suspended our on-site Guest Chef program. We continue to closely monitor this situation to ensure the steps we take are in the best interest of the families we serve. In the meantime, please consider catering or donating a meal to the House.
For more information, please contact Leilani at 254-770-0910 or email house@rmhc-temple.org.